Village Development
Under the program, every village gets a primary school, a police chowkie, an aveda (cattle trough), a chora and gate-ways. The cost of the schemes will be when completed, Rs. 50,000 per each small village to R. 2,50,000 per each large ones. This expense per village does not take into account its interlinking with market-places by pucca metalled roads.

Not only the towns but the villages are surveyed for the improvement and extension

Schemes. Those of Paneli, Movia, Moti Marad, Kolki and dozen others have been completed.

The padars of the villages are also improved together with the village itself.

The number of wells has increased from 2795 in 1884 to more than 7769 in 1932. this gives an indication of the capital that was made available from the profits of cultivation by the cultivators of Gondal for improving their lot. Again costly crops like rice, sugar-cane, or even wheat, and methi, that were grown only here and there, are now seen at many places and over large areas. It need hardly be said that assessment demand is now fully paid up and instances of payment of both the installments at once are yearly multiplying.

The proportion of land in possession of the non-peasant class to that of the total, is still under criterion. Out of the total unalienated 3,24,498 acres only 38,476 acres were held by non-peasant class. Even this exaggerates the actual conditions. For most of the so-called non-peasant class have taken to cultivation as a profession on account of its attractions under the low assessed full ownership system of land tenure.

Mud-huts in villages are giving place to stone built houses and even Manglore-tiled structures are found to be cropping up yearly. Of these, many are storied buildings.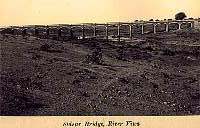 Sidsar Bridge